Amrita Ayurveda Medical Centre   was started  as Amrita Pharmacy at Kundara, Kollam in 1990. Following this, in 1996, his next venture began near Kinar junction, Tripunithura, where he concentrated on the treatment of skin and allergic diseases.in 2002, Amrita Ayurveda Medical Centre was established at Tripunithura with a full set up of all in-patient  amenities.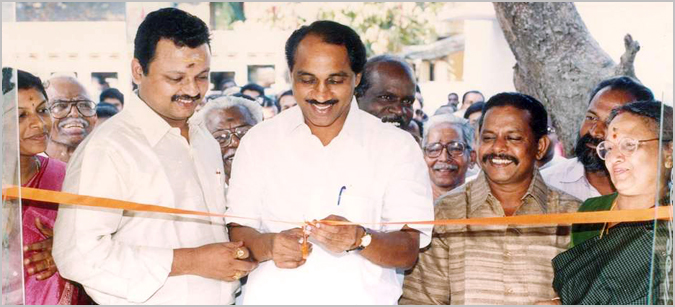 INAUGURATION OF THE HOSPITAL BY THE HON'BLE MINISTER .K.BABU.
Amrita has Branches at Kollam,Guruvayoor,Kozhikode and Changanassery
OUR SPECIALITIES AND SERVICES
 PSORIASIS is a skin disease characterized by red, thickened and scaly skin. Itching is the main symptom and the disease may cause severe physical discomfort and embarrassment in the public.
It is a chronic autoimmune disease that appears on the skin. It occurs when the immune system sends out faulty signals that speed up the growth cycle of skin cells. Psoriasis is not contagious. There are five types of plaque, guttate, inverse, pustular and erythrodermic. The most common form, plaque psoriasis, is commonly seen as red and white hues of scaly patches appearing on the top first layer of the epidermis (skin).
 VITILIGO  Is an acquired disease characterised by depigmented macules which are chalky or milky .white lesions can occur in any part of the body. Several Patterns of vililigo are recognized such as Vitiligo vulgaris,segmented Vitiligo,Generalised Vitiligo etc.The condition is usually slowly progressive,but sometimes can progress rapidly. The disease can also be associated with some cutaneous and endocrine disorders.
The condition is known as switra or Kilasa in Ayurveda.It shows the involvement of tridoshas and deeper dhatus.Faster spread of the disease indicates the poor prognosis of the disease and need of early management.
Systematic Ayurvedic approach to this disease with internal & external medication ,supported by proper padhyakrama can bring about miraculous result  of this condition
MANAGEMENT
SKIN DISEASES show the involvement of all the tridoshas in varying degree in the affected individuals. The predominance of vatha causes pain, dryness and scaling of skin. Pitha vitiation leads to burning sensation, redness, discharge etc and that of kapha causes rashes, itching, thickening of skin etc. From these signs and symptoms, the doshic involvement is analyzed carefully in each patient which is of utmost importance in the management of this disease.
FULL FLEDGED TREATMENT FACILITIES. Therapeutic procedures(kriya kramas) are done by experienced therapists(male & female) under the supervision of Dr .R.S.Roy.Spacious &,hygienic rooms (A/C & non A/c ) ,canteen facility,clean and fully equipped treatment rooms are provided to In Patients